Try SSP Wellness Center for a Day!
Try our state-of-the-art Wellness Center before you commit! Each pass is good for one day.
Day pass - $10
Gain access to our state-of-the-art equipment and classes!
Pickleball Pass - $6
Pickle Ball Reserve a Court Time
(6 players max - 2 players min to reserve)
Saturday 10:00AM - 3:00PM
Open-Court: Walk-In's Welcome
Reserve your time by Phone 618-465-3298 Ext 109.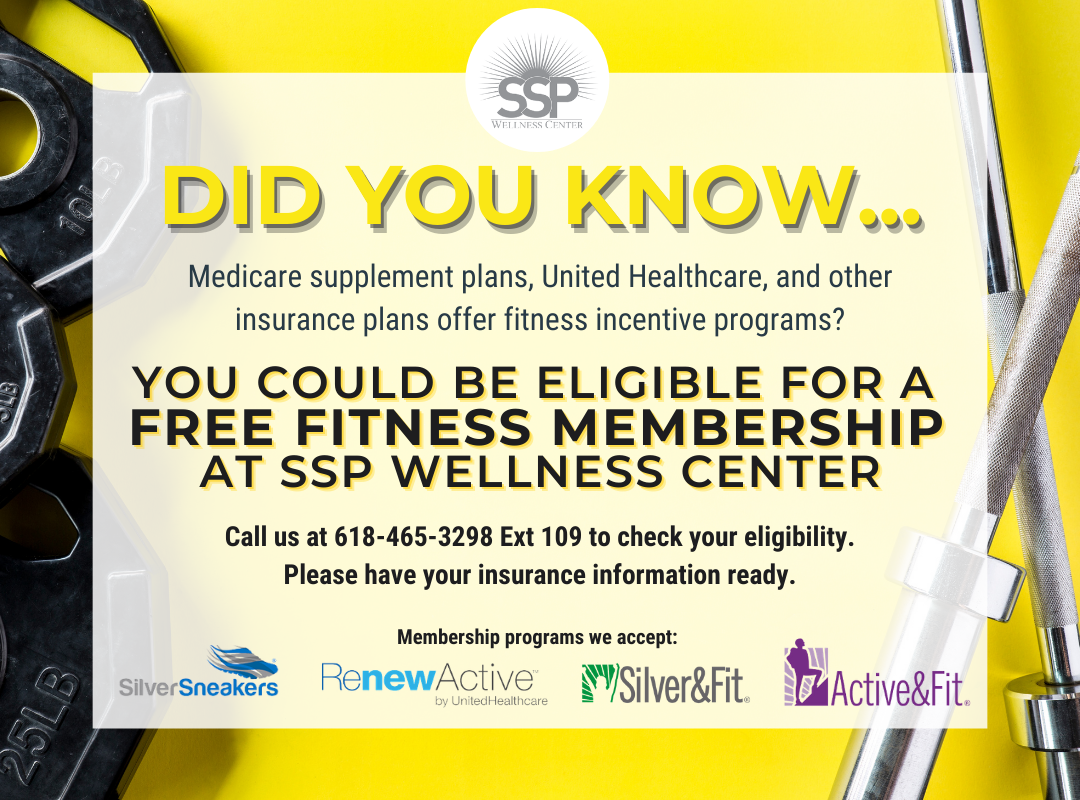 Membership programs accepted:
If you have supplemental coverage, you may be eligible for a FREE fitness membership. Call us at 618-465-3298 ext. 109 to check your eligibility. Please have your insurance information ready.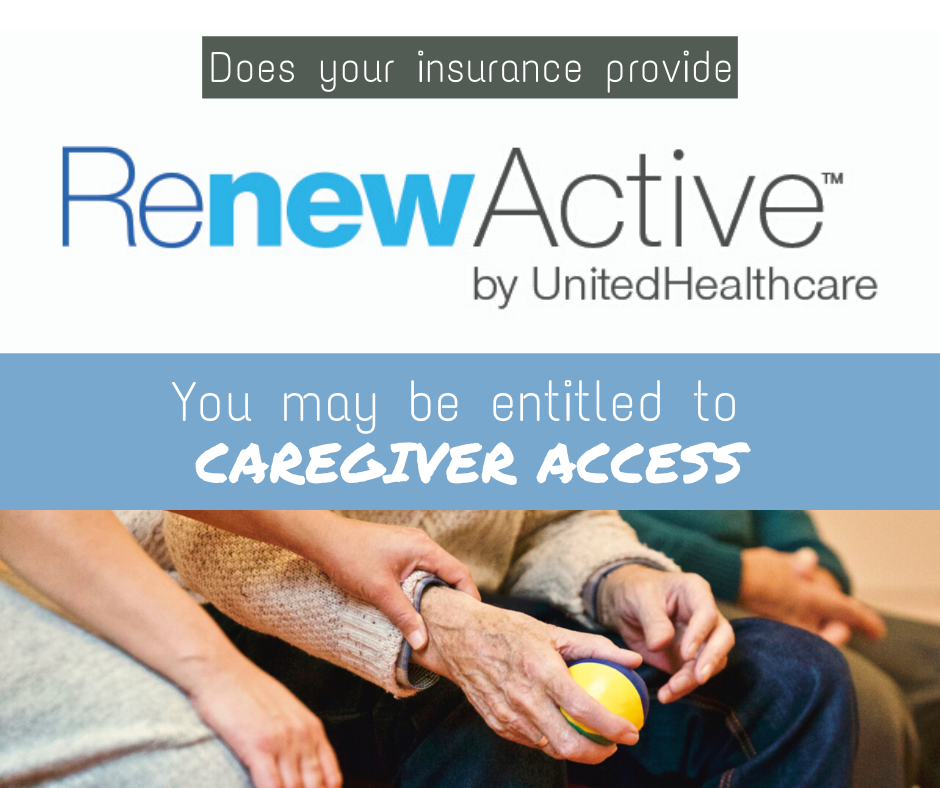 Renew Active
If you are a member or would like to become a member that just needs a little extra help, you are entitled to Caregiver Access! This means you can bring your primary Caregiver along with you at no cost! This program is designed to solely help you while you are at our facility, the caregiver may not utilize any of the equipment or classes while they are here.


The Best Personal Training in Alton.
Hiring a personal trainer at SSP has been, and can be, a life changing experience for you or a loved one. All of SSP Wellness Center's Personal trainers have a degree in the field, and have certifications. When working with a personal trainer at SSP your trainer will work with you one-on-one each and every session. They will work with you choosing the right exercises for you and they ensure they're done correctly. Your trainer will develop an individualized exercise program specifically designed for you, and for achieving YOUR fitness goals!
All personal training clients will receive introductory physical assessments which can include; Anthropometric measurements, Mobility and Flexibility assessments, cardiovascular fitness assessments, Strength assessments, and a Balance screening.
If at all interested in personal training fill out a "personal training inquiry form" from the Wellness reception desk or call at 618-465-3302 Ext 109 and receive a Free 30 minute Initial consultation.
One Hour Sessions
Single Session - $50
8 Pack - $256
16 Pack - $505
24 Pack - $745
32 Pack - $975
30-Minute Sessions
Single Session - $30
8 Pack - $160
16 Pack - $315
24 Pack - $465
32 Pack - $610
30-minute sessions must be used non-consecutively
Club 75
Discounts apply to members age 75+
30-Minute Sessions
Single Session - $20
8 Pack - $128
24 Pack - $360
1-Hour Sessions
Single Session - $35
8 Pack - $224

24 Pack - $630
Now offering complimentary initial consultations with a personal trainer! Each Package includes initial assessments, re-assessments, and motivation!
Other Services
CPR Classes (when available):
Make an Appointment:
· For Personal Training or Tours of the Facility
· Follow the
Link
· Create an account if you don't already have one

· Sign in
· Go to the 'Appointments' tab
· Select what you are looking for.
· Click 'Search'
· Select 'Request' next to the trainer and time that you would like.
· This is only a request: your appointment time must be confirmed.
· Wait for a confirmation call before arriving to your appointment.
Mindfulness Moments
Mindfulness Moments is a short, guided meditation and a chance for all to take a break from your day to de-stress! It only takes a few minutes to clear your mind and refocus your day.
This series is brought to you by Gail, SSP Wellness Center's Chair Yoga instructor.
Meet our Wellness Center Team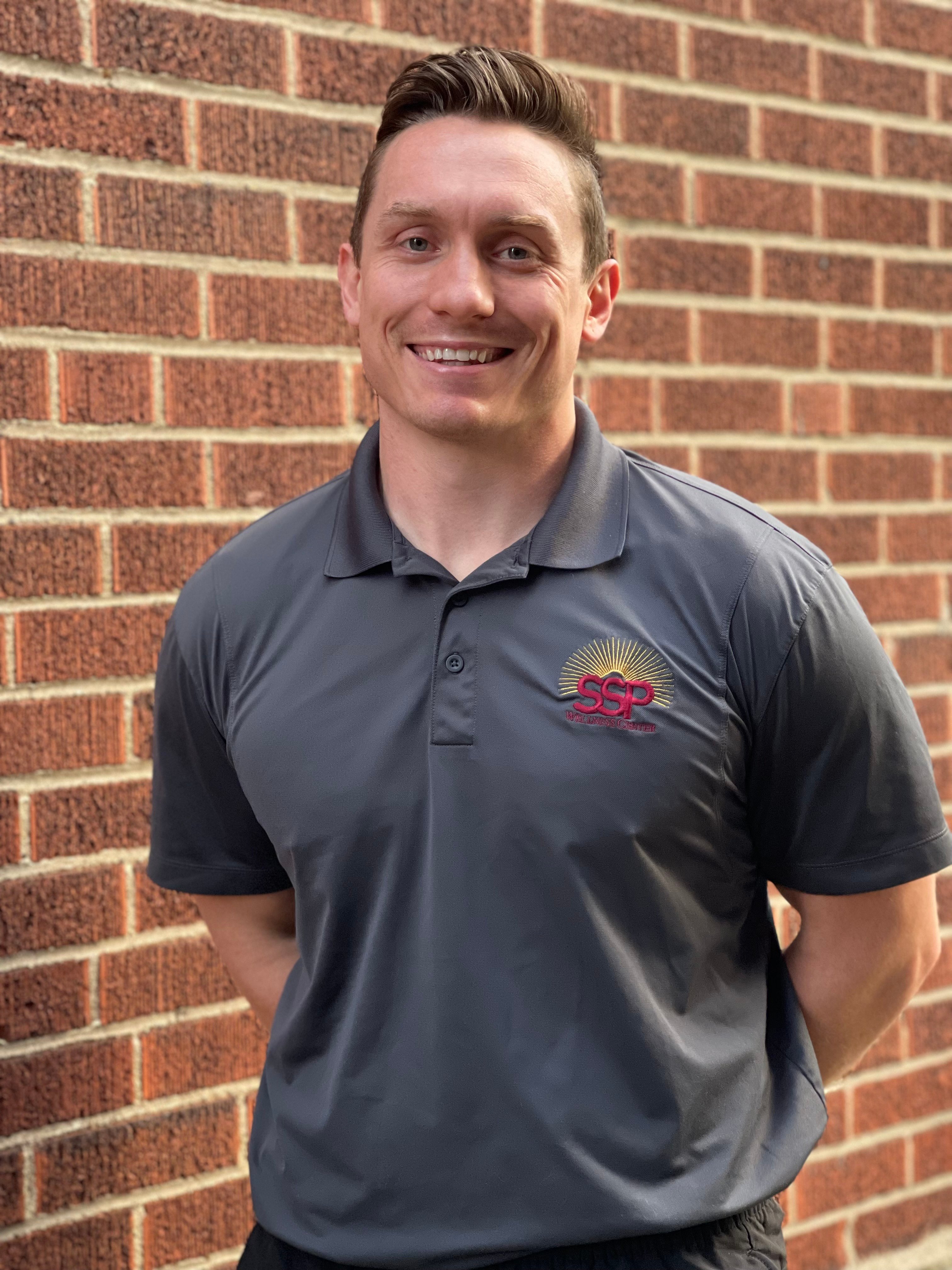 Dustin has been with SSP Wellness Center for 4 years.

Bachelors of Science (Exercise Science) from St. Olaf College in Northfield MN.
Certified Personal Trainer (CPT) from American Council on Exercise (ACE)
Certified Fitness Nutrition Specialist (FNS)
Certified in Matter of Balance and The Rock Steady Boxing Method.
Certified Senior Fitness Specialist (ACE)

Dustin Heiser's Background in health and fitness began early on in youth athletics where he participated in football, wrestling, and track and field. The athletic participation and interest in health and wellness continued into college as a NCAA Division 1 scholarship recipient in wrestling and later a division 3 all-conference Team Captain in Football.
He began as a fitness professional in 2011 working as a personal trainer, helping clients reach their goals with one-on-one sessions, while also working as a group fitness instructor and coach. He has worked with clients from many walks of life and special populations. He has trained clients from the ages of 12 to 97 with a variety of health considerations. His work with people battling Parkinson's disease is very special to him, he is now a Rock Steady Boxing coach!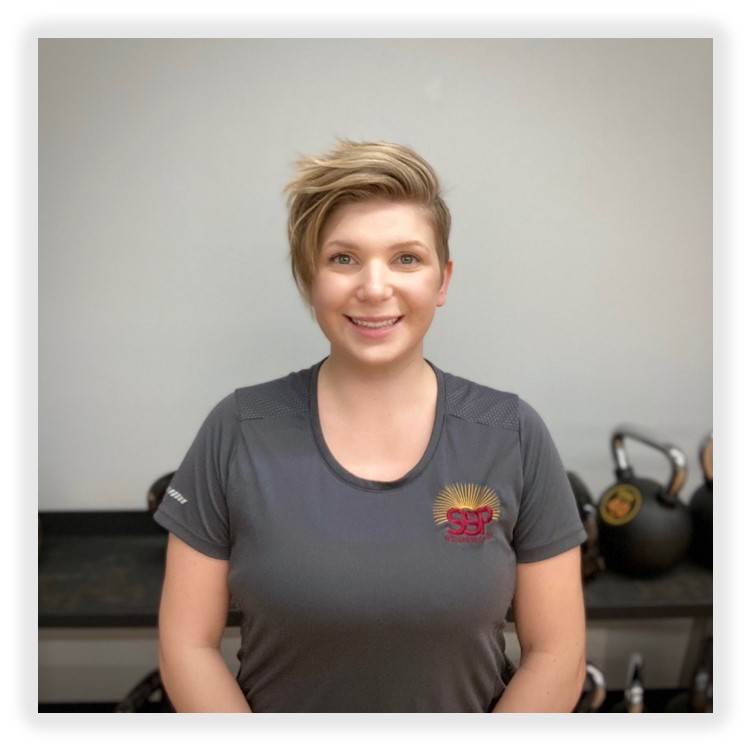 Kelsi has been with SSP Wellness Center for 3 Years
Bachelor's Degree in Exercise Science
American Council on Exercise Certified Personal Trainer,
Basic Life Support Certified
Kelsi is an SIUE alumni. At SIUE, she developed her love for exercise science and strength training. She initially started out as a general biology major and quickly switched direction when she took a couple exercise science electives. After seeing how exercise can make a huge impact on someone's overall health, she knew that's what she wanted to make her life's mission. She studied balance and flexibility for her senior project and interned under a physical therapist to finish her degree. "I know that exercise can help people live better lives both mentally and physically, and that is why I have a passion for helping people work towards their goals with intention and positivity."
Meet our Personal Trainers